Boy narrowly escapes death, miraculously dodges speeding bus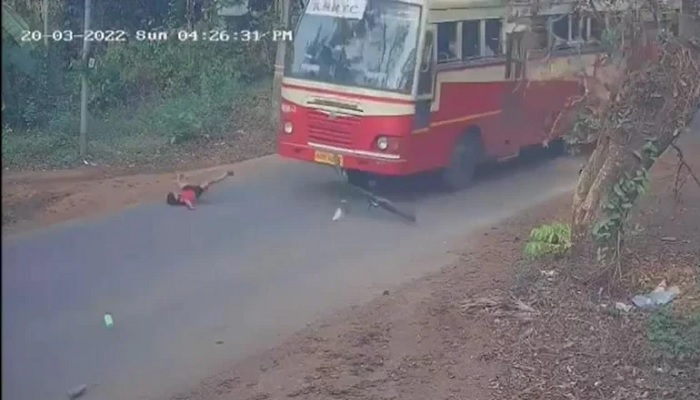 Nine-year-old boy narrowly escapes death in Kerala.
He loses control of bicycle and is hurled to road.
Accidentally thrown to other side, he escapes speeding bus.
---
KERALA: A nine-year-old boy miraculously dodged death after escaping an oncoming bus, a video posted by TRT World showed.
The incident was recorded by a CCTV camera and the footage went viral on social media. It has been viewed more than 124,000 times.
The video begins with the boy riding his bicycle approaching the main road. He can be seen losing control of the vehicle and speeding wildly onto the road.
The boy crashed into a passing bike, which tossed his body to the other side while his bicycle remained on the road. 
Right when he was hurled, a speeding bus passed along the road, running over the bicycle almost hitting the boy.
The boy remained unharmed and did not sustain any severe injuries.
(Visited 1 times, 1 visits today)