The 5 Best Drivers for Beginners or High Handicappers
The Best Golf Drivers for beginners or high handicappers
There are few greater joys in life than getting a brand new driver. It is second only to using that driver for the very first time on the golf course.
For those that are beginners to the game, the first thing you need to do is put away your dust covered Wilson Staff or Big Bertha from the mid-90s, and upgrade the big stick in your bag.
That isn't always as easy as it seems. Drivers are the highest ticket single clubs in your bag, so many manufacturers cash in on that.
In this post, we will discuss a handful of options that were designed with beginners and high handicappers in mind. This alone may not get you to scratch, but it will at least get you longer, and hopefully straighter off the tee.
Callaway Epic Max – Forgiving but expensive
Lofts: 9°, 10.5°, 12°
Length/Lie: 45.75" / 59°
CC: 460
Price: $529.99 / £700
This is the highest-priced option included in this list and for good reason. If money is no object, you'd be hard-pressed to find a better option for beginner level golfers. The driver was designed with high launch and maximum forgiveness in mind.
Callaway claims their Epic Max is the most forgiving driver in their line of clubs. What you'll notice first when swinging this club is that even mishits tend to travel further and straighter than you could ever imagine.
One of the most intuitive pieces of the club's design is its adjustable weighting mechanism. Oftentimes you'll feel the need for an instruction manual to maximise the customisation of weights on drivers, but with Callaway's sliding perimeter weighting, it's a breeze.

Buy the callaway Epic Max on amazon

Taylormade M6 – Customisable and Sleek
Lofts: 9°, 10.5°, 12°
Length/Lie: 45.75" / 56-60°
CC: 460
Price: $349.99 /
Have you ever heard the phrase "if you look good, you feel good, and if you feel good, you play good"?
Well, the R6's visually appealing carbon fibre design is sure to give you that same level of confidence at address.
Coupled with Taylormade's patented Speed Injected and Twist Face technology, this driver checks all the boxes for any beginner. The M6 is also one of the more customisable driver's on the market, with its 3 standard lofts, and you can also adjust the lie up to 5°.
A lot of the longest hitting amateurs are gaming this driver. Even though you're just starting out, the M6 will narrow any gap between you and your playing partners.

Buy the Taylormade M6 on Amazon

Callaway Rogue – Best on a lower budget
Lofts: 9°, 10.5°
Length/Lie: 45.5" / 58°
CC: 460
Price: $249.99 / £250
Callaway's Rogue would be the budget option.
However don't be fooled, just because it comes with the lowest price tag, doesn't necessarily mean it lacks the technology needed to help you improve your game. Boeing (that's right, the aeroplane manufacturer) collaborated with Callaway to improve the aerodynamics for the Rogue, which helps promote faster head speed.
The Jailbreak Technology that included more lightweight titanium bars within the clubface, also makes the driver lighter which can lead to faster clubhead speed for beginners.
You wouldn't be able to notice this difference when the ball comes off the clubface, as it still feels as hot as some of the higher-priced drivers on the market.

Check out the Callaway Rogue range on amazon

Cleveland Launcher HB Turbo – Best for those that hit right
Lofts: 9°, 10.5°, 12°
Length/Lie: 45.75" / 58.5-60°
CC: 460
Price: $399.99 / £280
When you think of Cleveland golf, drivers might not be the first thing that pops into your mind.
The Cleveland Launcher HB Turbo has its sights set on changing that. This will absolutely come with the most unique looking head design. There is a lot of thought and craftsmanship that has gone into the driver, and the HiBore crown design mentioned allows it to come to life.
When looking at potential drivers, you'll see a lot about MOI (moment of inertia). Put simply, this is how straight the clubface stays throughout the swing. The higher MOI, the more forgiving the driver. The HB Turbo has some of the highest MOI you'll find anywhere. With a built-in draw-bias face, this makes the perfect complement to beginner level swings that typically lends itself to slices off the tee.
Cobra Radspeed XD – Aesthetically Pleasing
Lofts: 9°, 10.5°
Length/Lie: 45.55" / 57.5-58.5°
CC: 460
Price: $449.99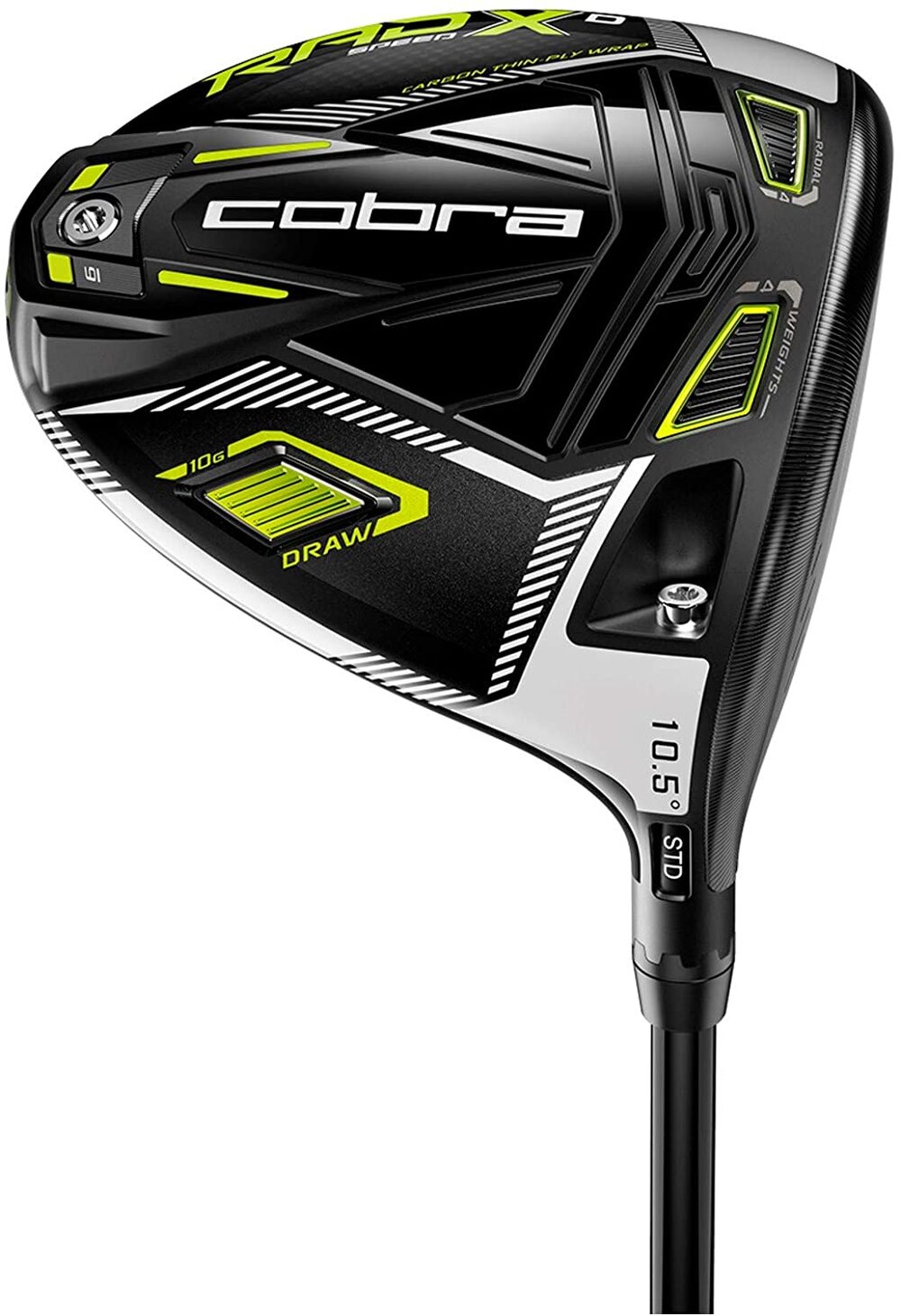 If flashy drivers are your thing, then the Radspeed XD is your club.
The first thing you'll notice is its bright yellow underbelly. If you're looking for a slice corrector, you won't find too many better than Cobra's latest model. In a fight against the slice, Cobra is winning, and the Radspeed design is leading the charge. The best part about the Radspeed series is that it takes you on a journey of natural progression to the lower handicap focused XB and standard Radspeed models.
As you continue to grow your game, Cobra will grow with you, elevating your game off the tee every step of the way.
Conclusion
As always, the most important thing is that you walk away with a driver that you're confident using, and one you enjoy playing with.
Having the right driver in your bag can easily turn your biggest liability (the dreaded slice) into one of your game's strengths, becoming a weapon as opposed to a detriment.
Check out our piece on the best Golf balls for beginners!
(Visited 1 times, 1 visits today)